London
Update: On December 23, 2022 the UK Government announced an open consultation to "introduce a threshold whereby residential buildings above 30 metres in height should be designed and built with 2 staircases."

The information on this page is from 2021.
The United Kingdom does not have a maximum building height for single stair residential buildings.

The building code does not establish a vertical restriction for single stair conditions, rather limiting single stair conditions with maximum horizontal travel distances and an occupancy load limit of 60 people per storey. With only one stair, many high-rise residential buildings in the UK have a stay-in-place fire evacuation strategy, such that only occupants from the flat where the fire occurs will immediatelly evacuate. All other occupants remain in place until explicitly ordered to evacuate. This is also known as a 'stay-put' policy.

On June 14, 2017, one such building, the Grenfell tower, was engulfed by the deadliest residential fire in the United Kingdom since the Second World War and cost the lives of 72 people. Subsequent inquiry determined that the negligent use of combustible cladding and insulation caused the rapid spread of the fire up the building exterior. The tower consisted of a 24-storey concrete structure with a single central exit stair, for which the shelter-in-place evacuation policy was sustained for more than 80 minutes before a general evacuation was ordered.

Comparison of UK and Germany Height Classifications adapted from Wallasch, K et al. (2009). Single Living.
Largely in response to the Grenfell inquiry, the government announced new fire safety regulations in 2020, which will require sprinklering for all residential buildings over 11 meters in building height, require increased evacuation signage, forbid the use of combustible materials in exterior wall assemblies and demand increased oversight during planning and construction.
1
The full list of regulations, made available by the Ministry of Housing, Communities & Local Government, is titled "A reformed building safety regulatory system". Notably, the new regulations do not include any changes to the single stair code and do not establish a relationship between the stay-in-place evacuation policy and the unrestricted height for single stair buildings.
In London alone there are currently 510 high-rise towers in planning and 115 in construction. Since 2014, 122 such projects have been completed and in the next 2 years, 96 such towers are expected to follow.
2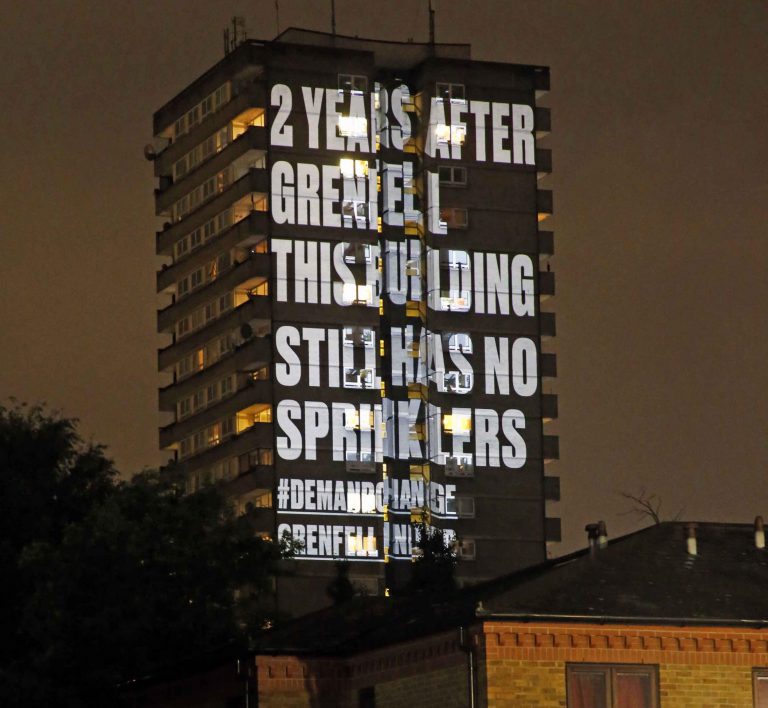 The UK building code is described here because the Grenfell Tower disaster is frequently cited as argument against allowing single stair buildings. Without a doubt, the lack of a second means of egress contributed to the number of deaths, however the 24 storey Grenfell tower far exceeds the scale of the proposed single egress code change, which is for sprinklered buildings of up to six storeys, a height limit based on the 75ft (22.8m) ladder reach of a typical North American fire department aerial apparatus.
---

Sources:

[1] Ministry of Housing, Communities & Local Government. (2020). A reformed building safety regulatory system. London, UK.
https://assets.publishing.service.gov.uk/government/uploads/system/uploads/attachment_data/file/877628/A_reformed_building_safety_regulatory_system_-_gvt_response_to_the_Building_a_Safer_Future_consultation.pdf

[2] Stock, B., Wallasch, K. (2020). Fire Safety Requirements for High-Rise Residential Towers in England and Germany. FeuerTrutz International 2020. https://www.medien.feuertrutz.de/#doc/62580/5

HM Government. (2006). Fire Safety Risk Assessment: Sleeping Accomodation.
https://assets.publishing.service.gov.uk/government/uploads/system/uploads/attachment_data/file/422192/9281_Sleeping_Accomodation_v2.pdf

Wallasch, K. et al. (2009). Single Living. https://www.building.co.uk/karl-wallasch-and-boris-stock-on-germanys-regulatory-approach-to-single-stair-high-rise-buildings/3149160.article

Fire Safety Compliance and Timed Exit Empirical Study. https://global.ctbuh.org/resources/papers/download/2396-fire-safety-strategies-for-penthouse-designs.pdf

Chey, Katy. (2017). Multi-Unit Housing in Urban Cities: From 1800 to Present Day. "London: Circa 1840 to 1900, London Tenement."

Kirkpatrick, D., Hakim D., Glanz, J. (2017). Why Grenfell Tower Burned: Regulators Put Cost Before Safety. New York Times. https://www.nytimes.com/2017/06/24/world/europe/grenfell-tower-london-fire.html