The Missing Middle

The intention of the the proposed code change is to make it easier to build missing middle and mid-rise housing typologies. Ofcourse, there are also other zoning and planning policy changes urgently needed to address housing affordability.

The Ontario Association of Architects (OAA) Housing Affordability Task Group published a report in February 2019 looking at how to increase the supply of housing, make housing financially attainable and address the urgency of this issue. First and foremost, the OAA proposes changes to single-detached residential zoning. This key policy change has been extensively documented and now faces a political struggle beyond the scope of architectural and planning practice - in particular a wall of political resistance entrenched in homeowner's associations and the mindsets of a property-owning municipal voter base. Nevertheless, California has recently done away with single-family zoning and New Zealand recently tabled sweeping reforms proposing to "ban single-family detached zoning in cities."
Whereas a much-needed change to zoning policy to end the hegemony of single-detached zoning requires enormous political buy-in and popular support, a building code change is within the professional responsibility of architects, code experts, fire engineers and planning officials to determine.
Click here to read the OAA Summary Report
Housing Affordability Task Group
"Sweeping housing legislation could reshape New Zealand cities for decades to come."
Further Reading on The Missing Middle
---
House Divided: How the Missing Middle Will Solve Toronto's Affordability Crisis
Edited by Alex Bozikovic, Cheryll Case, John Lorinc, and Annabel Vaughan. (2019). Coach House Books.

" A citizen's guide to making the big city a place where we can afford to live. Housing is increasingly unattainable in successful global cities, and Toronto is no exception - in part because of zoning that protects "stable" residential neighborhoods with high property values. House Divided is a citizen's guide for changing the way housing can work in big cities. Using Toronto as a case study, this anthology unpacks the affordability crisis and offers innovative ideas for creating housing for all ages and demographic groups. With charts, maps, data, and policy prescriptions, House Divided poses tough questions about the issue that will make or break the global city of the future. "

---
The Houses that Can't be Built in America - The Missing Middle
Not Just Bikes. (March 8, 2021). Youtube.

"In many US and Canadian cities you really only have two choices for living: an apartment/condo, or a single family home. The housing options in-between these two extremes - called "Missing Middle Housing" - has been legislated almost out of existence in the US and Canada."


---
The 'Missing Middle' - An Answer to Toronto's Housing Shortages?
Urban Strategies Inc. (December 2020). Toronto Regional Real Estate Board, TRREB.

"This report on the 'missing middle' has been commissioned by the Toronto Regional Real Estate Board to assess the potential for increasing the available housing supply by introducing new forms of housing in the single-family neighbourhoods across the Greater Toronto Area. A lot of recent press and conference activity has identified the opportunity – most of our urban area is occupied by low density, single-family homes. Increasing the amount and variety of housing in those areas could significantly, and quickly, increase such housing supply."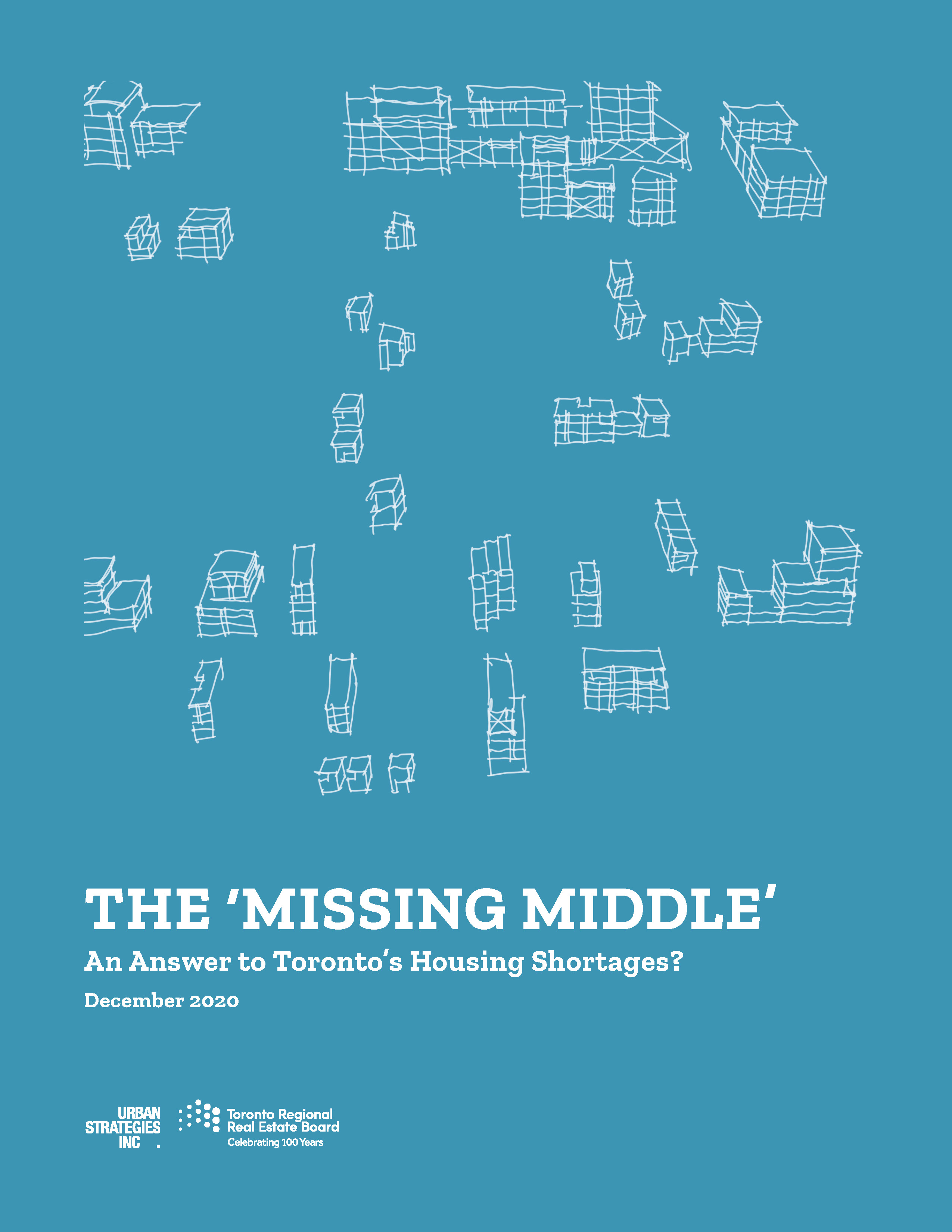 ---
What is the Missing Middle? A Toronto housing challenge demystified.
Canadian Urban Institute. (2018). Evergreen Housing Action Lab.

"From 2017 to 2018, Evergreen's Housing Action Lab convened a Missing Middle Working Group co-chaired by City of Toronto Deputy Mayor Ana Bailão and the Canadian Urban Institute. One of the initial tasks of the Working Group was to collaboratively create a "made in Toronto" framework for discussing missing middle housing. The purpose of this brief is to bring clarity to the concept of the missing middle and to identify areas to explore solutions for increasing the supply of missing middle housing in Toronto."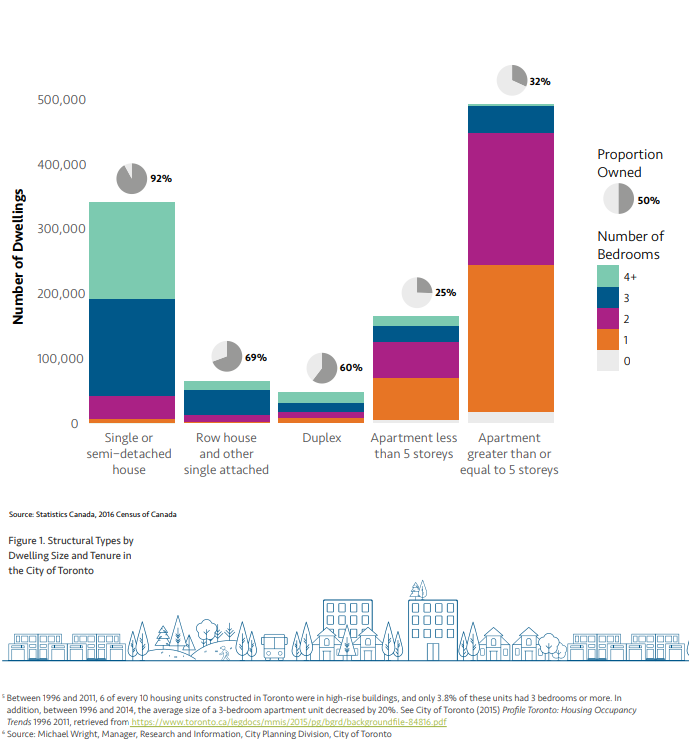 ---