---
"Typical Plan is an American invention. It is zero-degree architecture, architecture stripped of all traces of uniqueness and specificity. It belongs to the New World."
Rem Koolhaas. (1993). "Typical Plan" in S,M,L,XL.
Oben Flats is a 6-storey midrise on Queen Street East in Toronto, designed by superkul architects. The building is an excellent example of what the Avenues and Mid-Rise Perfomance Standards established by the planning policies of the City of Toronto can produce, and is one of the smallest such projects to be realized. The typical floor plan is defined by a double-loaded corridor with exit stairs on either end.
The financialization of housing in Downtown Toronto, epitomized by a skyline of high-rise condominiums, also has a significant trickle-down influence upon the design of mid-rise apartment buildings like Oben Flats. This phenomen has been referred to as "condofication". A few key characteristics include:
non-owner occupied rental units serving as investment properties with high tenant turnover
unit standardization driven by perceived market demand and highest rent per square foot, resulting in studios, 1 bedroom and 2 bedroom apartments while precluding anything larger than a three bedroom.

the expectation of a controlled-access ground floor lobby with 24/7 concierge and generous, yet dolefully underutilized amenity spaces
the prevalent, almost exclusive use of elevators for vertical circulation and a mechanical design for elevator redundancy (i.e. having at least two elevators in case of maintenance and for reduced wait times)
1001 Queen St E
Geoffrey Moote Architect

Image from Rezoning Application
submitted to City of Toronto
June 19, 2017
Avenues in Toronto like Queen Street East are defined by deep lots with narrow street frontages, for which buildings like Oben Flats (with a street frontage of 33m) are only buildable by accumulating enough capital to purchase large corner properties and/or assemble several adjacent lots to achieve a worthwhile profit. The image above shows the proposed ground floor plan of 1001 Queen East, a corner property under development one block away from Oben Flats, with 22m of street frontage, and a terrible egress design.

This is a design study to test a single stair design for a midrise of identical depth and height as Oben Flats, but with only half the street frontage.

The scheme follows the conditions of the proposed code change for a maximum of 4 dwelling units per storey and a maximum floor area of 150m2 per unit. The unit layouts recycle the standards and dimensioning assumptions of the design for Oben Flats, while taking full advantage of the corner condition to produce larger units and a more diverse unit mix. The single stair opens to a modest ground-floor lobby, where the stair lands infront of the elevator to encourage its use.


Note: This design study does not include the required corridor separation of the exit stair, which is a requirement of the proposed code change for Part 3 buildings up to six storeys.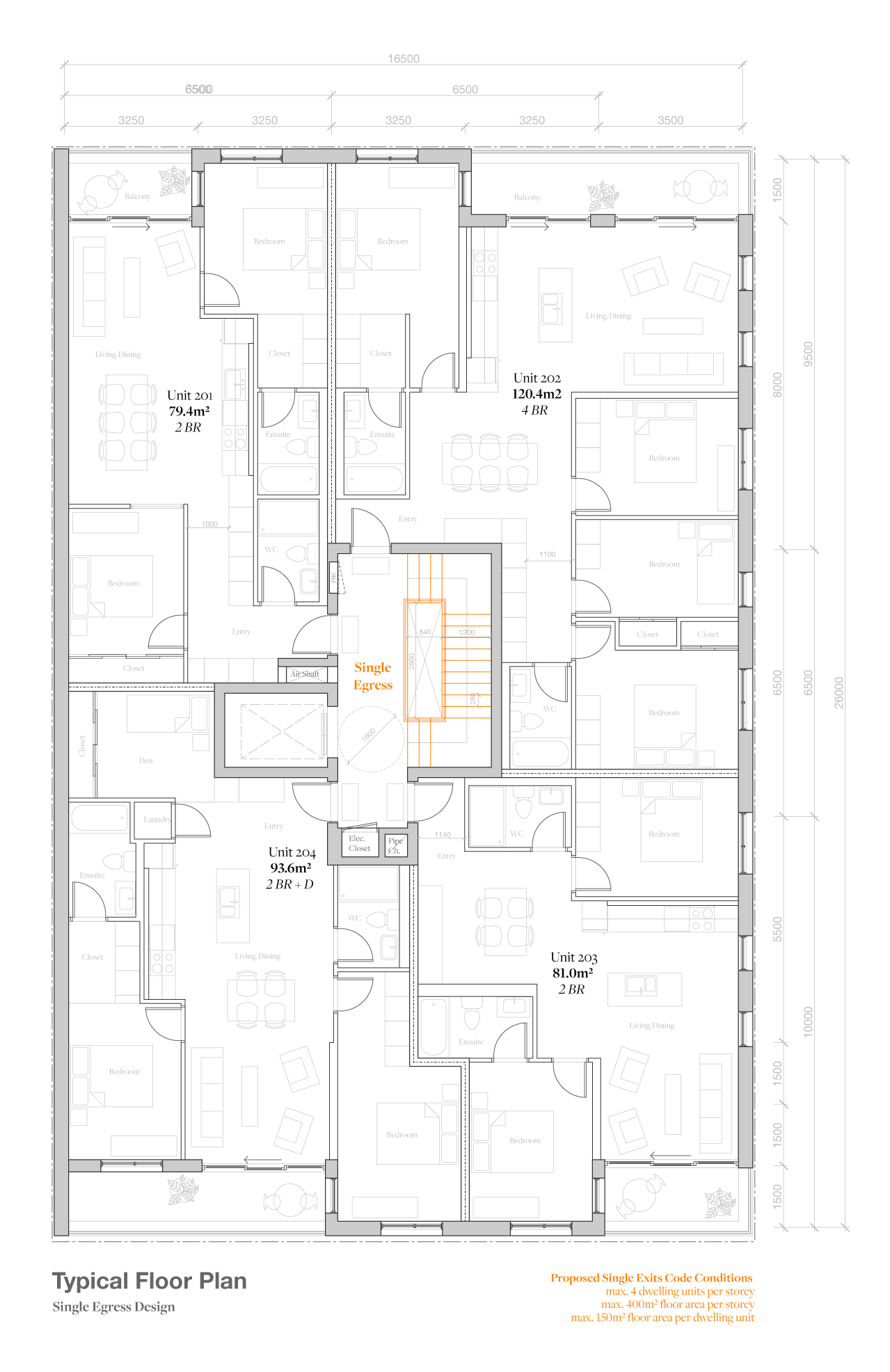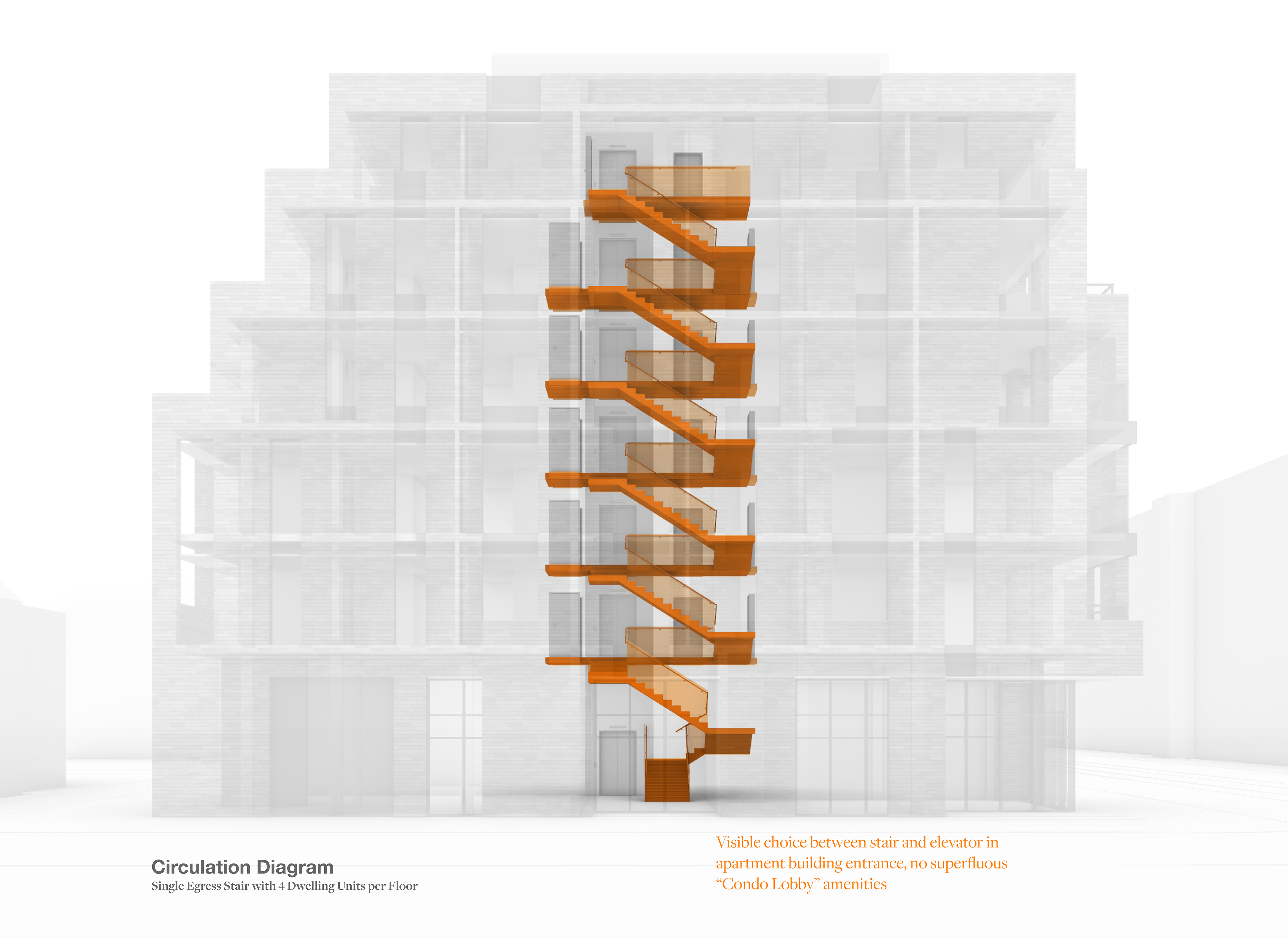 ---

References:

https://superkul.ca/projects/multi-unit/oben-flats-queen/
https://adp-architektur.ch/imagetypes/grid-half/toedistrasse_2.jpg
https://www.buildingcode.online/417.html
https://www.buildingcode.online/418.html

Site Plan Application for Queen and Pape:
https://urbantoronto.ca/news/2017/06/six-storey-condo-proposed%E2%80%94and-sold-out%E2%80%94-queen-and-pape