Visualization by LGA Architectural Partners
The Ulster Condos is a five-unit missing middle development currently under construction in the Harbord Village neighbourhood of Toronto, designed by LGA Architectural Partners. The project converts the corner residential lot from an existing single-family, two storey dwelling and rear garage to a three-storey triplex, basement unit and laneway suite, an excellent example of gentle densification in low-rise neighbourhoods.
The upper units of the three-storey structure are each accessed individually from grade with seperate entrances, and spatially organized with bedrooms on the second floor and living spaces on the third floor. These two upper units require a total of four stairs, consuming a significant proportion of the usable floor area and restricting the units to a stacked layout.
This design study explores an alternate spatial arrangements for these upper units if a single egress where allowed, such that both units are accessed by a common stair.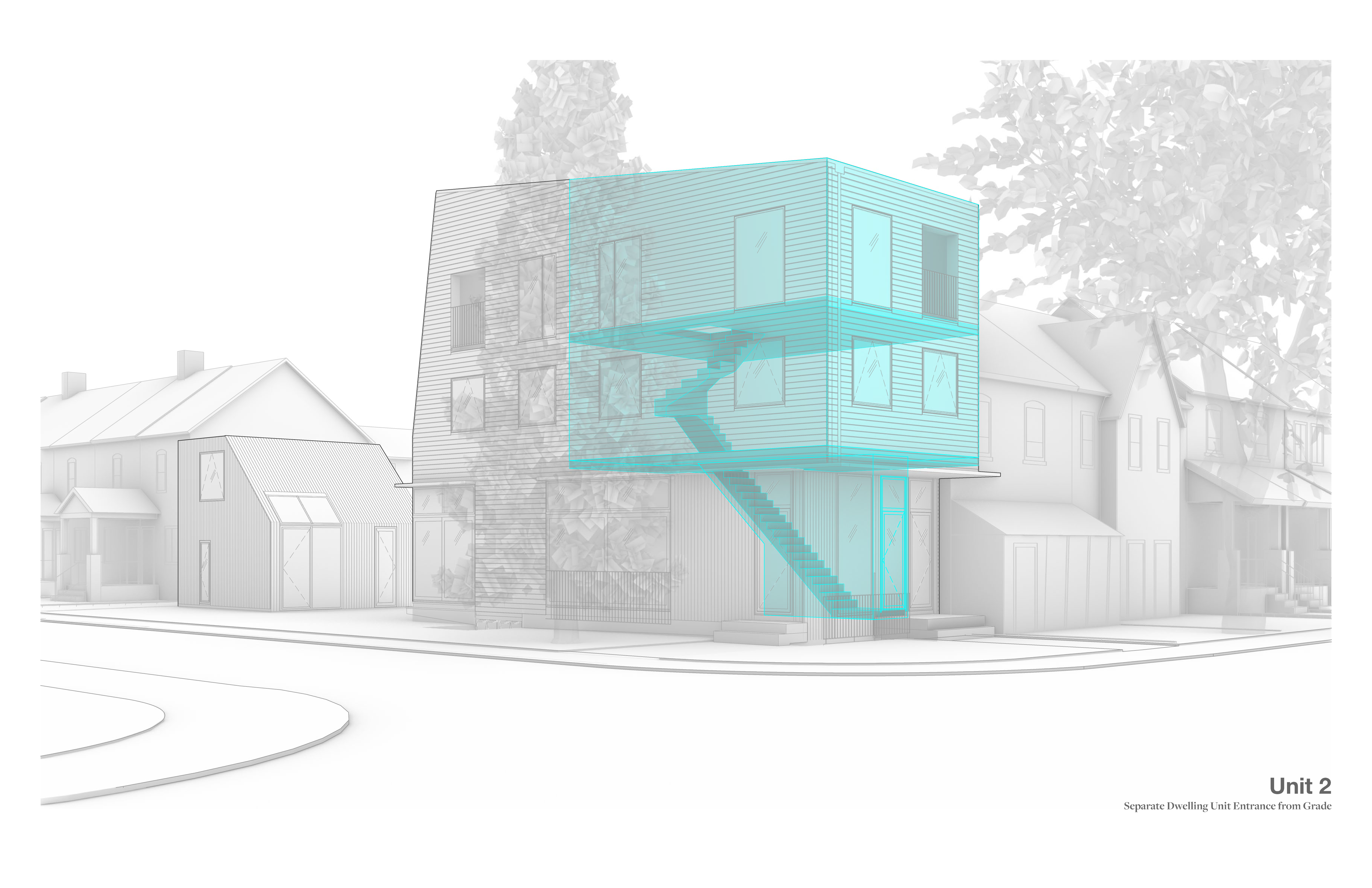 ---
Proposed and Alternative Floor Plans
Note: no change to basement and laneway unit plans.
---
Floor Area Calculations
The single egress design results in a reduced total leasable area due to the common stair which cannot be applied to either unit, however the usable area is increased as the areas consumed by stairs are drastically reduced.
This freeing up of usable area results in additional usable area for unit 1 and most significantly, an additional bedroom for unit 3.
Note: No changes made to the gross building footprint/areas or terrace area for each unit.
---
It is important to recognize that the egress requirements of Part 3: Fire Protection, Occupant Safety and Accessibility of the Ontario Building Code do not apply to this project. As this building is of Group D residential occupancy and of "three storeys or less in building height and having a building area not exceeding 600m
2
", this project falls within Part 9: Housing and Small Buildings of the code,. Part 9 allows for dwelling units to be built up to three storeys in height with a single exit if each dwelling unit has its own direct exit to grade, resulting in building elevations with several front doors.
Part 9 of the code also establishes distinct rules for the allowable rise and run of treads in exit stairs, depending on whether they serve a single dwelling unit (private stair) or serve more than one dwelling unit (public stair). The diagram below compares the steep rise and run allowed for Part 9 private stairs to the slope of Part 9 public stairs as well as exit stairs in Part 3 of the code and illustrates the bizarre reality that the 2012 OBC requires a more stringent 280mm run for public stairs in Part 9, but only 255mm for exit stairs in the more onerous Part 3.
In the case of the Ulster Condos,
adherence to the Part 9 requirement for a public stair would increase the length of the common stair proposed for the alternative single exit design from 3570mm to 5320mm, a drastic increase of about 50%.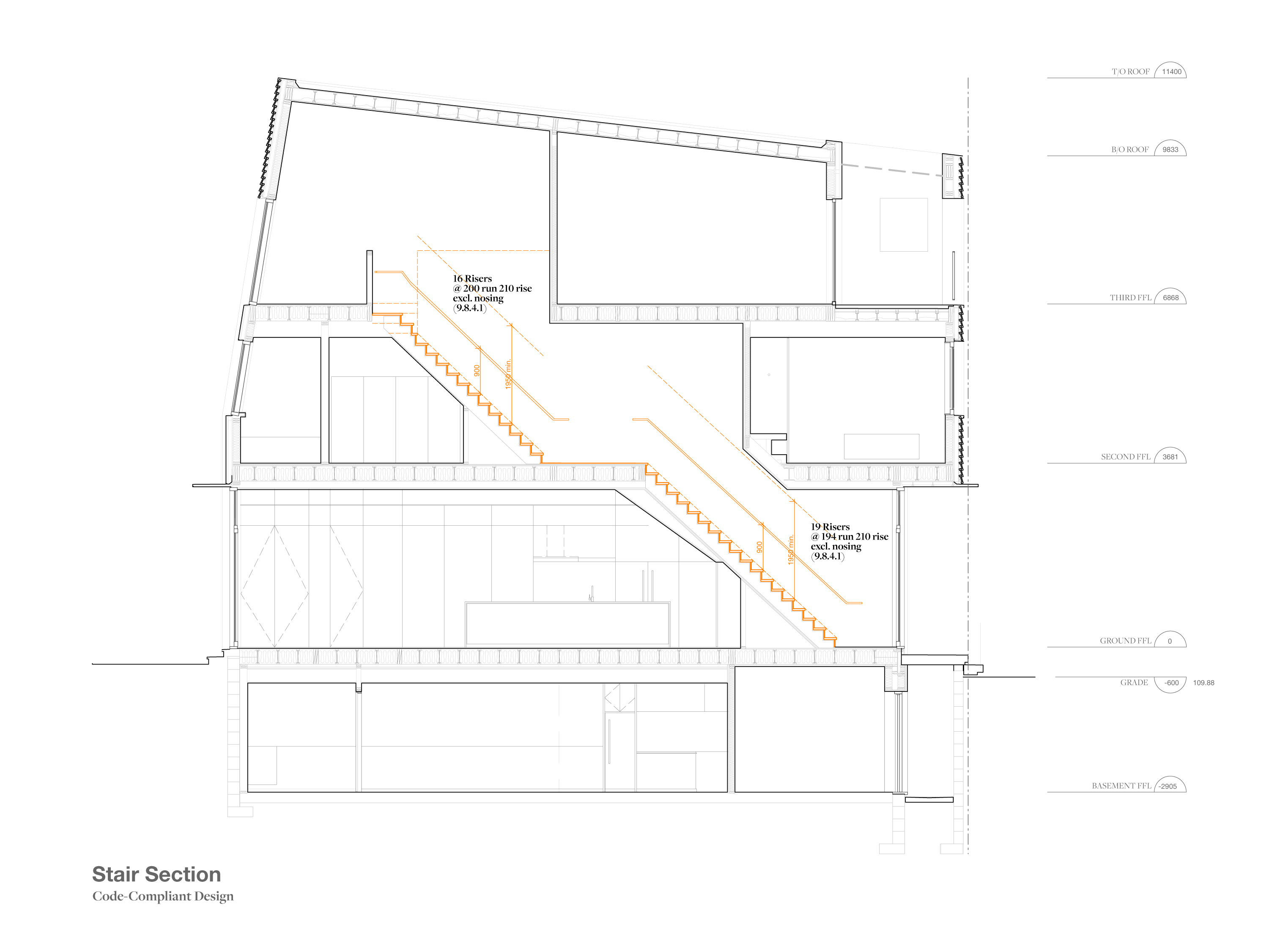 Update: As of January 1, 2022 the 2012 OBC Part 3 exit stair requirement of 255mm min. run and 200mm max. rise has been decreased to a 280mm min. run and 180mm max. rise, now aligned with the more onerous Part 9 requirements for public stairs.
---
Sources:
Construction Documents provided by LGA.
Nugent, Michael. (2021). Post[Sub]Urban Complex. CRIEM (Center for Interdisciplinary Research in Montreal Studies). Source of Context 3D Assets in Massing Diagram.
https://postsuburbancomplex.cargo.site/
Ontario Building Code.
https://
www.ontario.ca/laws/regulation/120332